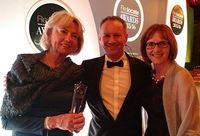 Going-there has won the 2016 award from Re:locate Global for Technological Innovation. The award was made for our new GT Global Tracker app.
The award was presented to Going-there Founder and CEO, Diana Busk, at a Gala Awards Dinner at The Brewery, London, on May 19th.
Accepting on behalf of Going-there, Ms. Busk said: 'It is a great privilege and honour to receive this recognition. We would like to thank the judges at Re:locate and hope that our efforts to combine the management of tax and immigration compliance alongside a global emergency alert system in a simple user app brings large savings and efficiency benefits to HR and Relocation Managers on all continents.'
Our photo shows Diana Busk, holding the award, with Maciej Goleba, Going-there Regional Operations Manager, Europe, and Teresa Klimczyk, Regional Operations Director, Europe.
The GT Global Tracker app combines a smartphone app for those on business travel or short-term assignments, with an administration portal easy to navigate and use by those administrating such staff. It allows for the easy annual administration of tax compliance and visa compliance, as well as have an emergency alert system that can enable management teams easily to contact and check the safety of all staff in locations where an emergency situation has arisen.
For more information on the app: https://going-there.com/gt-global-tracker.
For a demonstration video of the app, see: https://vimeo.com/162088227.
For the Re:locate commendation, see http://www.relocatemagazine.com/awards-2015-16-winner-technological-innovation