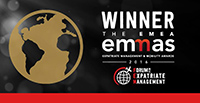 [For the full Global Tracker website, click here].
Going-there's new Global Tracker App addresses three major headaches which plague HR departments managing business travellers and internationally mobile employees. These are: immigration breaches, tax compliance in the host country or state, and locating an employee in emergency situations. 
The GT Global Tracker App brings order to these three key business challenges. Through either a GPS-enabled location tracker, or by self-recording, the Application records how much time the traveller spends in each country or state and,
Monitors the time against local tax compliance requirements, providing live alerts of any impending local tax liability;
Monitors time against Visa and Immigration requirements, providing live alerts of any impending infringements;
Can transmit an instant safety alert to employees in locations where emergencies unfold.
The App enables HR and relocation managers to store a comprehensive record of an employee's movements for annual tax assessments, thus making substantial savings in administrative costs. As a Visa expiry or renewal date arises an alert is sent to managers and travellers.  Finally, the real-time recording of an employee's travel movements means that the Application has the ability to locate individuals in emergency situations such as natural disasters or terrorist events.