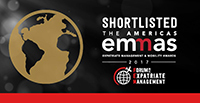 Award season is back and Going-there has been short-listed in two categories of the US EMMAs for its Global Tracker.
The categories are:
Most Innovative User of Technology in Mobility - Assignee Management
&
International Risk Management Provider of the year
The winners will be announced at the Forum for Expatriate Management (EMMA) Awards Dinner in Denver, Colorado, on May 4. So, three times lucky? We hope so! The Tracker has already won the 2016 Relocate Award for Technological Innovation and the UK EMMA for Most Innovative Use of Technology in Global Mobility - Assignee Management.
More Corporate RFPs are asking potential suppliers to include information about solutions for solving the increasing obligations to ensure tax and immigration compliance for business travellers. GT Global Tracker has been helping its clients win business because of its cutting-edge technology and unique approach of combining Tax, Immigration and Duty of Care in a SINGLE process.
Not only does it simplify HR's workload but it can transform the HR person into a pro-active advisor to the business rather than the reactive firefighting roles they are often placed in.
In addition to the actual app and HR portal, which can be branded to meet client company needs, Going-there also offers an extensive and continually updated databank of visa and local taxation rules. This can be accessed by companies as a basis for their own short-term business traveller tracking needs.
Contact us today for a demonstration and wish us luck for the Awards!
Liam Brennan is Vice-President, Client Relations, of Going-there. Based in Dublin, he has been instrumental in developing the GT Global Tracker app and its implementation with partner companies. Contact Liam via liam.brennan@going-there.com or on +353 86 810 8156.