Going-there Wins 2018 EMMA for Destination Services Provider of the Year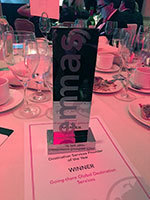 Going-there is pleased to announce that it has just won the 2018 EMMA award as Destination Services Provider of the Year.
The EMMAs – Expatriate Management Mobility Awards – are organised by the Forum of Expatriate Management (FEM). They are intended to celebrate success, best practice and outstanding contributions to global mobility.
This year's ceremony was held in San Diego as the glittering highlight of the FEM Americas Global Mobility Summit, the annual industry pooling of expertise, ideas and innovations.
Going-there's success is the latest in a string of awards, having won last year's EMMA in the same category for the EMEA region. It follows from prior prizes in technological innovation and accolades from Relocation Management partners for outstanding contributions to their provider supply chains.
'Global mobility is becoming ever more complex,' says Diana Busk, CEO of Going-there. 'Both in terms of the legal, tax and visa environment and the diversifying profiles of assignees, there are big challenges in keeping costs low, keeping service quality up, and keeping relevant through innovation. This is where we have managed to be successful.'