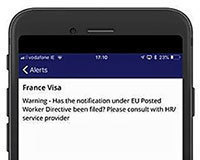 Diana Busk, CEO & Founder of Going-there Global Destination Services today announced that ECA International has made a significant strategic investment in the multi award-winning business travel app - Global Tracker.​
The app will now be managed and developed by a newly-created company, jointly owned by Going-there, ECA International and creator Liam Brennan.​
Global Tracker is designed to help business travellers and employers manage the compliance risks created by crossing international and territorial borders.​
With pre-trip assessments, along with live taxation, immigration and duty of care alerts, mobility and tax teams can now keep ahead of upcoming thresholds and take pre-emptive steps to resolve issues before they occur. The Global Tracker app is the only product on the market to include these four critical areas of business travel management in a single product and has been purpose-built to address this increasingly important area of risk for international companies.
​Background
Going-there Global Destination Services supplies white-labelled software to relocation management companies, global tax advisories and immigration specialists as well as working directly with corporate clients.​
The Global Tracker is the platform behind many industry business traveller management products such as The Weichert Global Organizer, BDO QuickTrip, Altair's Orbit, Santa Fe's Business Travel Tool and Orion Relocation's GEM Tool.​
Liam Brennan, who created and is leading Global Tracker's development, will be CEO of the newly formed joint venture.​
Brennan said "ECA International has a long-standing reputation as specialists in software, data and consulting for global mobility. Their presence and relationships with global mobility professionals around the world will open up exciting new opportunities for Global Tracker's fast-growing business. Senior executives are increasingly focused on risk and reputation management, and specifically business travel compliance with complex and ever-changing tax and immigration rules. Simply put, we're the dynamic one-stop shop solution they've been looking for."​
Andrew Shaw, Managing Director of ECA International said "Our investment in Global Tracker is another step in ECA International's transition into a software business focused on global mobility in its broadest sense. From long-term assignments to the occasional business trip – and everything in between – we can supply businesses with the data and software they need to manage their mobile employees efficiently and effectively. Global Tracker is a unique tool and we're thrilled to be partnering with Going-there and Liam Brennan to make it even more successful."​
Going-there's CEO, Diana Busk, said "This alliance with ECA International underlines how Going-there's award-winning technology is continuing to lead the way in industry innovation. The growing trend in companies seeking to find solutions for tracking their business travellers is an endorsement in Global Tracker's timely market presence".
Speak to Liam
For further information or to arrange a demonstration of the Tracker App, speak to Liam Brennan, CEO of the new company. Liam is contactable by email and phone.

Email: liam.brennan@going-there.com

Tel: +353 86 810 8156