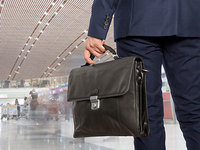 With just over a year gone since the historic UK vote to leave the European Union there is still not much clarity on what will happen during the negotiations and beyond.
Speculations on a 'Hard' or 'Soft' Brexit are many but truth be told this is uncharted territory and nobody really knows what will happen.
We read daily stories of mass relocation of companies from the UK to other EU locations in order to maintain access to the EU markets. When we read about an Investment Bank moving '10000' jobs to Dublin, Frankfurt or Luxembourg it can cause either excitement or dismay - depending on whether those jobs are coming to your area or leaving it.
Is it realistic however to think that companies will move 10000 jobs lock, stock and barrel to new locations? In our fictitious bank above are those 10000 jobs all Investment bankers? How many of them are support staff in marketing, administration and back room processes?
Is it realistic to think that the trains full of administrators and marketers currently commuting from Essex or St Albans will suddenly find themselves commuting from Malahide, Darmstadt or Bonnevoie?
It doesn't need 10000 bankers for a bank or other entity to create a physical and legal presence in the EU.
Could we see a situation where instead of moving wholesale enterprises, companies will move the least amount of substance required to facilitate a legal presence in the EU location?
There are many reasons why I don't believe we will see mass movement of jobs. Many of the support staff mentioned above can quite competently carry out their roles in the UK - servicing departments that may have moved some staff to an EU location or have replaced them with local hires.
Many of the threatened jobs are not critical roles and are held by people that are in relationships with similar people with a similar job in a similar company. They have family structures and networks that are well established and specific to their current location. Relocation would never likely have been a career option or a desire in their roles.
Many of the critical roles that may need to move are held by people in dual income families where both contribute to the current standard of living enjoyed in the UK – and are necessary to maintain that status. Business travel commuting may be a better option than dealing with an unexpected or unplanned relocation.
Will companies ask more people to commute from the UK to Dublin, Frankfurt or Luxembourg?
With this business travel boon, however will come some complexity. We are already seeing changes in global Taxation and Immigration approaches by Governments. Revenue authorities see a revised political will to tax 'Big Corporate' and will look for their fair share of business travel activity that is consuming resources in airports, street lighting, and road and rail infrastructure.
In the United States, New York is one of the most visited cities for business and it is no coincidence that they are one of the more aggressive states for collecting local state taxes from business visitors. A cumulative 14 days of presence in New York could trigger a state tax liability - even if you have dual tax treaty protection at the Federal Tax levels.
Could we see similar approaches to taxation in the EU? What will be certain is that companies will need to track business travel much more closely than they may do currently.
Recent initiatives like the Base Erosion and Profit Shifting project from the OECD - currently being implemented in the EU - will look to tax profits in the jurisdiction where the value is created.
As Governments seek to attract companies looking to move from the UK they should focus also on making their countries an attractive location for an increase in business travel.
What sort of airline connectivity do they have to other European locations - and to UK locations? Can a business traveller get in and out of the city easily and allow for an effective day's work in the visited location?
What is the traffic situation to help people move quickly about their cities?
What is the short-term accommodation pool for Monday to Friday commuters? Hotels and Serviced Accommodation providers should be looking to increase their inventory in key cities such as Dublin, Luxembourg and Frankfurt amongst others.
We will also see a renewed focus on work permit and immigration status. The implementation of the EU Posted Worker Directive will be interesting to follow in the near future. Countries that have an attractive business travel visa regime will succeed more than those with protective regimes.
One of the key elements of the Brexit negotiations will concern the free movement of UK and EU residents in carrying out their business and leisure activities. If a compromise is agreed – as seems more likely after the recent General Election - then we are likely to see a significant increase in business travel servicing smaller EU located offices.
There is another interesting outlier that could trigger increases in business travel. Theresa May has committed ( prior to the General Election ) to reducing UK corporate taxes to the 'lowest level in the G20'. If you combine the BEPS legislation where taxes are paid in the market where profits are generated with the necessity to locate some elements of corporate presence in the EU for access to that market we will likely see a fragmentation of business departments across multiple locations in the UK and the EU. Companies will want to demonstrate a physical presence in the UK to avail of the lower corporate tax levels for profits they generate in the UK.
The one thing that we are certain of at the moment is that we have uncertainty for the near future. In this climate, it wouldn't be unreasonable to predict an increase in business travel as companies feel their way around the evolving regulations.
Would the Investment Bank above sign a lease on an office in a new city to house 10000 employees that may not need to move at all?
Liam Brennan looks after Going-there's client relations in the EMEA region and has specific responsibility for the GT Global Tracker product. This multi-award winning product is our latest innovation in Relocation technology.