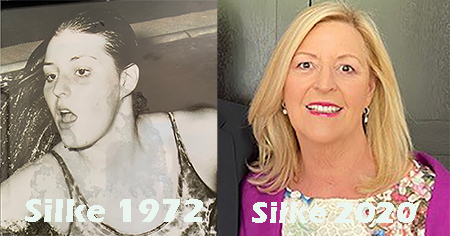 Going-there Global Destination Services has over 340 trained Destination Consultants around the world. Working on the ground directly with assignees, our DCs have built a vast store of experience.
One of the longest serving is Silke Rogatko, who is based in Los Angeles. Originally from Germany, she spent much of her career in academia and in Fortune 500 companies working in marketing and finance, before joining Going-there in 2009.
But one other thing marks Silke out – not just in Going-there but in general. She is a former Olympian! Silke competed in the 1972 Olympic Games in Munich and claimed a bronze medal in the backstroke. In addition to this success, she also represented her country at various international sporting events.
We spoke to Silke about her post-sporting life now working with assignees in California.
How long have you worked at Going-There?
Since October 2009
What made you decide to take the role?
I had just relocated from Atlanta, GA, where we lived for 5 years. My husband was offered a new position in Los Angeles. Because I had lived in Los Angeles before and graduated from college there, this was an easy decision. Unfortunately, unemployment was extremely high at the time and I could not continue my work in academia. When I spoke to a good friend of mine then living in Copenhagen, she suggested becoming a DC in Los Angeles. She had been working as a DC for GT in Denmark. I applied and within a day I had my first assignment.
How can you relate to assignees in your current role?
I relocated in the late 90s with three young children from Germany to the East Coast. I had no assistance with our move, had to scout out school districts and find a home to buy. I learned to become highly resourceful and a good problem solver, so that our family could settle into a new country. Most importantly, I looked to humor and laughter rather than dwelling on difficulties.
In your own relocation what were some things that stand out as being challenging while getting settled in your new location?
There were not a lot of Expats around me that I could relate to. Los Angeles is the same. We do not have a distinct Expat neighborhood, so many of my international assignees are often looking for an international community with people experiencing the same challenges. Being used to shopping at bakeries, fruit and vegetable stands, butcher shops, etc., I had to get used to the immense size of an American supermarket. I quickly learned how to find local farmer's markets and specialty food stores. I now have a huge list of specialty stores for Los Angeles that I happily share. I remember my first assignee coming from Paris and taking him to the perfect cheese store or a woman from Chicago finding deep dish pizza.
How can you apply that to assisting your assignees?
My approach is to assess and evaluate each assignee individually. During our first phone call or face-to-face meeting I try to get a sense of what is important aside from work, school, home finding. What is it that makes an assignee happy, what are weekend activities someone loves? If someone tells me that he/she is an avid hiker/outdoor person, I send a list of my secret trails and links to some activities they enjoy. Depending on hobbies or lifestyle, showing the assignee that he/she can find all of this is comforting. I recently had an assignee who is vegan arriving from Asia. She was eager to find good vegan food. I took her to Whole Foods and Erewhon, she was in tears because she knew she no longer had to worry about this. Last year I had a young professional from the UK, who was a triathlete. He was so thrilled that I had a list of training facilities for him as well as knowing trainers at two triathlon clubs.
How important is training for the role of DC?
It is the foundation of good consulting and the success of destination services companies.
What is the most rewarding part of your job?
Seeing people happy when they have moved into their new home and surprising them with unexpected gestures. I have watched children so that a couple could have a date night, brought flowers or wine, or a plant for the new garden the day someone moved in.
What is the most challenging part of your job?
When an assignee is too busy to be involved, non-responsive, and a spouse takes over.
What is something unique about you?
I believe every human being is unique.
How do you differ from other DCs?
By age, I believe I am one of the oldest DCs in Los Angeles and with that comes a lot of experience. I love working with all types of people, especially young professionals, and demanding C-level executives. I like to have fun with my assignees. It diffuses anxiety and eases worries. I speak French, German and some Portuguese and this helps me relate to different cultures. I love a good challenge; I thrive on solving difficult problems.
What is the difference of working in Germany versus working in California?
I have lived outside Germany for over 30 years. It is hard to compare because most of my professional life I have spent in the US. Overall, I believe that if you see yourself part of a global network, it does not matter where you were born and raised. I connect well with people because I love working with people.
During Covid-19 how have you been able to assist assignees?
FaceTime, Zoom, Skype, videos, email, and phone calls. I have not been in direct contact for 6 weeks, because California started a strict policy in March.