An Interview with a Destination Consultant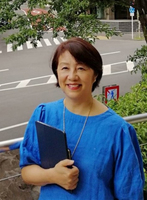 Going-there''s business model is to expand into locations where our clients need us and this is how we grow our global footprint. Similarly, our DC teams are often grown through networking and by developing connections. Tokyo GT veteran Izumi Koyabashi is one example of how our DC referral scheme led to a new career path.
Describe your professional career before GT.
I worked for an airline after I graduated from college. I was part of the passenger service staff at Haneda airport, where I was assigned to all kinds of services such as ticketing, check-in, boarding and flight cancellation rebookings for passengers. After several years, I became an instructor for new employees. All of my roles there gave me the best experience to learn about hospitality. Right after I married, my husband was assigned to open the representative office in Frankfurt am Main, Germany. We moved and lived there for 18 years. I worked as a Japanese language instructor for my last 6 years in Germany. I taught not only Germans but also different nationalities, offering individual and group lessons. I enjoyed both introducing them to the language and culture, and of course learning theirs from them!

After we moved back to Tokyo, my friend, Michaela Bumharter (who is also a GT DC) introduced me to Going-there in 2009. I enjoy the DC work, especially meeting different people in different industries and seeing beautiful apartments.

What kinds of hobbies and interests do you have outside of work?
I love playing golf. I also like travelling very much. I like exploring a town and enjoying the scenery and atmosphere. Unfortunately, with COVID-19, I can't plan any trips right now, especially overseas travel, but it's fun to keep dreaming!

How are you/your city coping with COVID lockdowns?
I think the government and each authority in Japan have been trying to control it as well as possible, though I hear many criticisms. A National Emergency was declared: a "stay home" request with which people were asked to cooperate. Companies, schools, and people have been calmly cooperating as best they can, while following the guidelines to "think and act for others." I believe all of us here are still mindful of our responsibilities to society even after the cancellation of the National Emergency.

What is your favourite thing to do in the city you live?
Tokyo is always busy and changing continuously. I like to explore different areas to find something new, or even something that is old and unchanged. Right now, I am exploring less to keep everyone safe, but hope to be back at it soon!

Tell us about your proudest moment as a DC.
My proudest moments as a DC are when I see how excited assignees are to start living in Tokyo. They have big smiles when they arrive! I also love working with partners such as realtors and seeing their satisfaction.

Best Wishes
Izumi